"Take a Hike" for student scholarships with NPC Friends and Family
on
March 18, 2021
at
11:28 am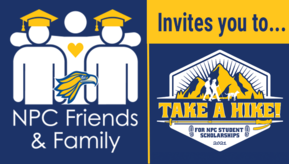 Arizona Gives Day, Tuesday, April 6, is an online 24-hour giving campaign, sponsored by the Alliance of Arizona Non-Profits and the Arizona Grant Maker's Forum. NPC Friends and Family, the nonprofit foundation that supports the students of Northland Pioneer College (NPC), primarily through need-based scholarships, has participated in the event since 2015. The nonprofits who raise the most funds can win thousands of dollars in bonus cash. NPC Friends and Family has finished among the top four in the category of Small Non-Profits – across the entire State of Arizona – since 2016!
This year, in conjunction with Arizona Gives Day, NPC Friends and Family invites you to "Take A Hike!" in support of NPC students! This fun new fundraising event will allow you to invite your friends to help in the important effort of supporting NPC students. A donation of $50 or more to NPC Friends and Family, made between Tuesday, March 16 and Tuesday, April 6 at NPC Friends and Family's donation page (https://www.azgives.org/npcfriendsfamily) qualifies you to participate in the "Take A Hike" event, which includes a free official tee shirt!
You and your buddies choose where you hike and when – any time between March 16 and April 30 – whatever distance you like, with anyone! Then share photos and stories of your hiking adventures on the official NPC Take a Hike! Facebook group page https://bit.ly/2NiOhzb
This year, our featured Arizona Gives Day scholarship is a brand-new endowed scholarship, the "Taking Flight Scholarship" in Memory of Dr. Eric B. Henderson. Dr. Henderson spent the last sixteen years of his life as an instructor at NPC, and was a tireless champion of NPC students. This endowed scholarship, established by his family, will provide $1,200 each year to an NPC graduate who is pursuing a residential bachelor's degree at any accredited college or university. This new scholarship provides an opportunity to help NPC graduates take the next big step!
Scholarships raised through events like Arizona Gives Day have been truly life-changing for NPC students, and no more so than in the past year. NPC Friends and Family's "COVID-19 Emergency Fund" provided students with laptops and Wi-Fi hotspots keeping students connected with their classes during the pandemic. It has even helped students make utility bill payments, car repairs and buy groceries when many jobs were lost to the pandemic. These scholarships mean so much more to NPC students than just financial assistance. They are a validation of all the hard work, dedication and commitment that goes into earning a college degree. They show NPC students that someone cares about their success. For Arizona Gives Day 2021, please join us on the trail and "Take A Hike" for NPC students!