Gov. Ducey Orders More Closures
on
June 30, 2020
at
9:50 am
(From www.fox10phoenix.com, written by Bailey Miller and FOX 10 Staff)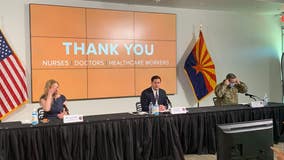 "PHOENIX – Arizona will not be getting back to normal any time soon. During a news conference, Governor Doug Ducey rolled back the state's reopening, announcing new closures and delaying the start of the school year.
Arizona has seen a big surge in COVID-19 cases over the past few weeks, so the governor is trying to flatten the curve and get things going in the right direction again.
Changes that will take effect at 8 p.m. on June 29 include closing bars, gyms, movie theaters, water parks and tubing. The closures will last for 30 days and be re-evaluated.
'Our expectation is that our numbers next week will be worse,' he said.
Public events of more than 50 people have also been banned. Pools, both public and private at apartment complexes and hotels, will be limited to 10 people at a time.
Another big announcement: the beginning of the school year has been delayed until August 17, so parents might have to change some plans moving forward.
Ducey says we can win the fight, but only if everybody does their part.
'We need to slow the spread.. mask up. Please wear a mask… we're not going back to normal any time soon.'
Arizona Department of Health Director Dr. Cara Christ also announced they will activate Crisis Standards of Care."
You can read more at the source here: https://www.fox10phoenix.com/news/gov-ducey-orders-closure-of-bars-gyms-movie-theaters-water-parks-and-tubing-delays-first-day-of-school