Watchdog expected to rebuke ex-FBI director…
on
June 14, 2018
at
10:41 am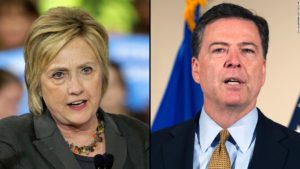 Hillary Clinton and James Comey will be back in the headlines Thursday as a watchdog official for the Justice Department releases a report on the Obama administration's handling of the Clinton email scandal in the runup to the 2016 election.
The report — by Inspector General Michael Horowitz — is widely expected to criticize Comey, the former FBI director, for his public statements in July 2016 and October 2016 about the federal investigation into Clinton's use of a private email while she was secretary of state.
Congress and the White House have anxiously awaited the report, which has taken about 18 months to complete and could affect Special Counsel Robert Mueller's investigation into Russia's interference in the 2016 election.
President Trump is likely to seize on any criticisms of Comey in the report to argue he was right to fire the former FBI director who had been leading an investigation into Russian meddling in the 2016 election.
On the other hand, any discussion in the report on the fallout of Comey's actions on the Clinton campaign could undercut Trump's accusations that FBI and Justice Department officials are biased against him.
Clinton has blamed her election defeat on Comey's public disclosure of a reopening of the email investigation 11 days before the 2016 election.
Source : Yahoo