Trump's demand for AG Jeff Sessions to investigate Hillary Clinton
on
July 27, 2017
at
10:33 am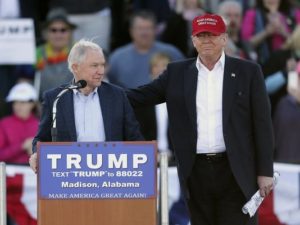 If President Trump was listening to the broadcast of Jeff Sessions's contentious Senate confirmation hearing back in January, he would know why his demands this week for his attorney general to investigate Hillary Clinton crossed a bright ethical line.
"This country does not punish its political enemies," Sessions told members of the Senate Judiciary Committee. He went on to acknowledge that his own critical remarks of Clinton during the 2016 presidential election disqualified him from launching such an inquiry.
"I believe the proper thing for me to do would be to recuse myself from any questions involving those kind of investigations that involve Secretary Clinton," Sessions said.
Source : USA Today