Trump strikes fiercely patriotic tone at Naval ceremony…
on
May 25, 2018
at
9:22 am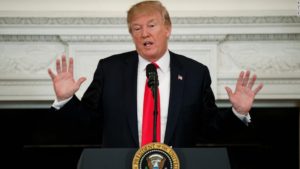 President Trump on Friday gave a triumphant, patriotic speech to 2018 graduates of the U.S. Naval Academy, promising to stand up for the U.S. without apology and hailing what he said was the re-emergence of American confidence since he took office.
"Our economy is the strongest it's ever been and our country has regained the respect that we used to have long ago abroad," he said in the commencement speech in Annapolis, Maryland. "Yes they're respecting us again, yes America is back."
Trump spoke to 1,042 newly commissioned ensigns and second lieutenants. In his remarks, he highlighted his efforts to increase federal spending and took credit for securing pay increases for the military and more ships.
He told the graduates that a robust military made America safer as "you're less likely to have to use it if you have it," but said that if the U.S. must fight, then it should fight to win.
Source : Fox News