Trump slams Google over alleged political bias: We're watching 'very closely'
on
August 6, 2019
at
4:04 pm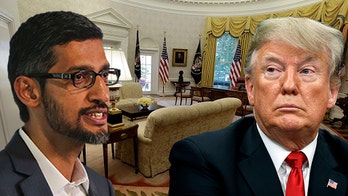 President Trump has slammed Google and its CEO Sundar Pichai in the wake of recent allegations of anti-conservative bias at the tech giant.
In a series of tweets early Tuesday, Trump attacked the Mountain View, Calif.-based firm, citing former Google engineer Kevin Cernekee's recent allegations of bias within the company.
The president mentioned his recent meeting with Pichai in the Oval Office, adding that the Google chief "was working very hard to explain how much he liked me, what a great job the Administration is doing" and "that they didn't help Crooked Hillary over me in the 2016 Election."
Trump said that Pichai told him that Google is "NOT planning to illegally subvert the 2020 election despite all that has been said to the contrary."
"It all sounded good until I watched Kevin Cernekee, a Google engineer, say terrible things about what they did in 2016," Trump added. He also referenced Cernekee's comments that the tech giant wants to make sure that Trump loses the 2020 election.
Additionally, Trump mentioned Lou Dobbs' interview on Fox Business with Peter Schweizer, president of the Government Accountability Institute and Breitbart senior editor at large.
"We are watching Google very closely!" the president added.
Cernekee was fired in June 2018 after Google told him that he was terminated for misuse of the company's equipment, including its software system for remote access. However, Cernekee, who describes himself as a whistleblower, maintains that he was terminated for his outspoken conservative views.
You can read more at the Source here: https://www.foxnews.com/tech/trump-google-political-bias-allegations