Trump slams FBI raid…
on
April 10, 2018
at
10:21 am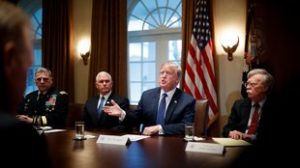 President Trump took to Twitter Tuesday to express his anger over the FBI's raid of the office of his personal lawyer, Michael Cohen, slamming the move as proof of a "witch hunt" and declaring that "attorney-client privilege is dead!"
According to The New York Times, which first reported the raid, agents obtained documents related to several issues, including Cohen's payments to adult-film actress Stormy Daniels in the weeks leading up to the 2016 presidential election.
The Times reported that prosecutors obtained the search warrant for Cohen's Midtown Manhattan office and a Park Avenue hotel room after receiving a referral from FBI Special Counsel Robert Mueller — who is investigating alleged Russian interference in the 2016 election. The Washington Post reported that Cohen is under investigation for possible bank fraud, wire fraud and campaign finance violations.
Trump, who on Monday called Mueller's investigation "an attack on our country," sent out two rapid-fire tweets on Tuesday, expressing his anger at the development.
Tweeting " Attorney Client Privilege Is Dead"… and " Total Witch Hunt !"
Source : Fox News