Trump signs $700 billion military budget into law
on
December 12, 2017
at
2:47 pm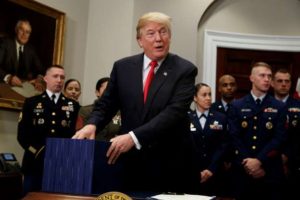 President Donald Trump on Tuesday signed into law a sweeping defense policy bill that authorizes a $700 billion budget for the military, including additional spending on missile defense programs to counter North Korea's growing nuclear weapons threat.
But there's a catch. The $700 billion budget won't become reality until lawmakers agree to roll back a 2011 law that set strict limits on federal spending, including by the Defense Department — and they haven't yet.
The law caps 2018 defense spending at $549 billion.
Trump called on Congress to "finish the job" and eliminate the cap on defense spending before he signed the bill at the White House.
Source : AP News