Trump says leaders at U.N. were laughing 'with me,' not 'at me'
on
September 27, 2018
at
10:37 am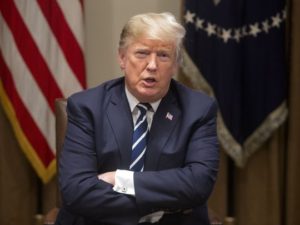 President Trump insisted Wednesday that world leaders were laughing with him and not at him during his address to the United Nations General Assembly the day before.
Audible laughter broke out among the assembled diplomats when Trump used the occasion to boast about his achievements as president, insisting, as he has many times at rallies and campaign speeches, that "in less than two years, my administration has accomplished more than almost any administration in the history of our country."
Previous presidents have defeated Nazi Germany and presided over the end of the Cold War, ended slavery and passed the Civil Rights Act.
As titters erupted in the audience, Trump paused and remarked, with a smile, "So true. Didn't expect that reaction, but that's OK." More laughter and applause followed.
At a rare open press conference on Wednesday, Trump denied that he was being mocked.
"They weren't laughing at me, they were laughing with me," said Trump during the press conference in New York. "We had fun. That was not laughing at me. The fake news said 'people laughed at President Trump.' They didn't laugh at me. People had a good time with me. We were doing it together. We had a good time. They respect what I've done."
Source : MSN