Trump says IG report 'totally destroys' Comey
on
June 18, 2018
at
3:35 pm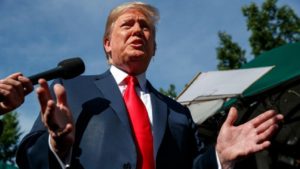 President Trump on Saturday said that the Department of Justice inspector general report on the Hillary Clinton email probe "totally destroys" former FBI Director James Comey — and describes a "dark and dangerous period" in U.S. history.
The report, released Thursday, faults a number of FBI and DOJ officials for their conduct relating to the investigation into Clinton's use of a private email server when she served as secretary of state.
In particular it called Comey's actions in the case "insubordinate" in relation to his decision to make a public announcement in July 2016, in the heat of a presidential campaign, recommending against prosecuting Clinton.
The report also revealed text messages between agent Peter Strzok and colleague Lisa Page in which Strzok vows to "stop" Trump becoming president. Strzok, who was romantically involved with Page, was a lead investigator on the Clinton case and later worked the Russia probe before being removed.
"The IG Report totally destroys James Comey and all of his minions including the great lovers, Peter Strzok and Lisa Page, who started the disgraceful Witch Hunt against so many innocent people," Trump said Saturday.
Source : Fox News