Trump promptly declares North Korea no longer a nuclear threat
on
June 13, 2018
at
9:46 am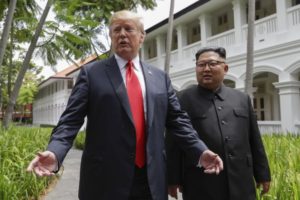 President Trump returned on Wednesday from his historic summit with North Korean leader Kim Jong Un in Singapore and issued what would be a remarkable statement — if it were true.
"Just landed," Trump tweeted shortly after touching down at Joint Base Andrews. "A long trip, but everybody can now feel much safer than the day I took office. There is no longer a Nuclear Threat from North Korea."
While Trump and Kim concluded their summit in Singapore by signing a joint statement that promised "complete denuclearization of the Korean Peninsula," it did not specify what that process would entail. According to the Washington Post, North Korea's definition of "denuclearization" is different from Trump's.
The United States did, however, commit to suspending joint military exercises with South Korea, Trump told reporters before departing the summit site. It's unclear whether the president informed U.S. allies in the region of his plan to end the "war games," as he called them, prior to his declaration.
"We save a fortune by not doing war games," Trump tweeted Wednesday, "as long as we are negotiating in good faith — which both sides are!"
Source : USA TODAY