Trump meeting with UN chief…
on
May 16, 2018
at
12:52 pm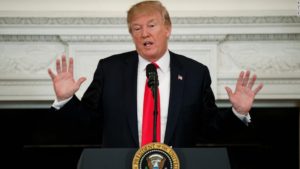 When United Nations Secretary General Antonio Guterres meets with U.S. legislators and President Donald Trump this week, one of the big questions will be whether he can guarantee the sweeping U.N. reforms promised last year — as "absolutely essential" protection from the  anticipated hostility of the Trump Administration protection-will truly get off the ground as promised.
An additional question the Secretary General may have to answer from U.S. skeptics:  how much additional money for the U.N. is the reform really going to cost? So far, the U.N. isn't saying, except to assert any money involved will be "voluntary"—meaning donors like the U.S. will not be automatically on the hook for it.
The atmospherics, not to mention the timing, of Guterres' Washington foray could be vitally important for the sprawling and ill-focused institution he has promised to streamline, decentralize and overhaul, and for its relationship to the new team Trump has now selected to bring a more assertively conservative cast to the administration's foreign policy.
As a Western diplomat told Fox News, when the reform was announced last June "the Secretary General needed to keep the U.S. in the tent. Now he needs to show results."
How well Guterres' meetings will go is anybody's guess.  They are sure to cover a wide range of topics, and the U.N. has plenty of supporters as well as critics on Capitol Hill, which Guterres will visit first on Thursday.
Source : Fox News