Trump looks for friendlier European welcome..
on
July 5, 2017
at
8:02 am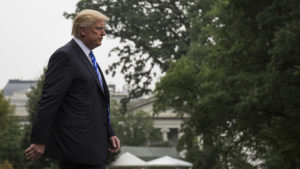 President Donald Trump is headed back to Europe hoping to receive a friendly welcome in Poland despite lingering skepticism across the continent over his commitment to NATO, his past praise of Russian President Vladimir Putin and his decision to pull the U.S. out of a major climate agreement.
Trump arrives in Warsaw, Poland, on Wednesday for a brief visit that will include a speech in Krasinski Square, near the site of the 1944 Warsaw Uprising against the Nazis. He'll also meet with the leaders of Poland and Croatia and hold a joint press conference with Polish President Andrzej Duda.
Before moving on to an international summit in Germany, the president will also hold meetings with the leaders of a dozen countries located between the Baltic, Adriatic and Black seas at a summit of the Three Seas Initiative, which aims to expand and modernize energy and trade. One of the initiative's goals is to make the region less dependent on Russian energy.
Source : AP News