Trump immigration order met with shrugs and new demands
on
June 21, 2018
at
9:11 am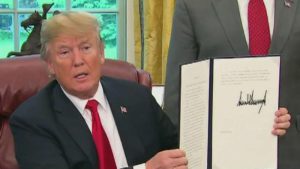 After demanding for days that President Trump end the separation of illegal immigrant families at the border, Democrats responded to his executive order stopping the practice with only new appeals — drawing GOP accusations that they're more interested in using the issue as a political cudgel.
The president, rarely one to back down from a fight, signed the order Wednesday allowing children to stay with parents caught crossing the border illegally. The move followed national outrage over the impact of the Justice Department's "zero tolerance" policy referring all illegal border crossers for prosecution. Children were separated due to a 1997 order and related decisions that forbid them from being detained with adults for extended periods.
For a solid week, the administration was pilloried by Democrats, journalists, activists and even members of his own party.
Trump sought to ease the outrage with his order. But, keen to show his base he's not softening on immigration either, he vowed to continue the "zero tolerance" approach, while calling on Congress toweek a more lasting fix.
Democrats were not impressed. Within minutes of Trump's oversized signature being displayed for the cameras, they turned their focus to the "indefinite imprisonment of families."
"This Executive Order doesn't fix the crisis. Indefinitely detaining children with their families in camps is inhumane and will not make us safe," Sen. Kamala Harris, D-Calif., said.
Source : Fox News