Trump golfs with Woods, Johnson…
on
November 24, 2017
at
1:43 pm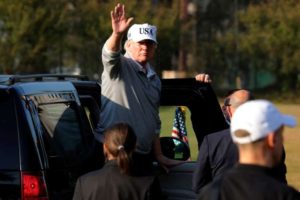 U.S. President Donald Trump played a round of golf on Friday with star professionals Tiger Woods and Dustin Johnson, a rare admission that he is taking time out for his favorite pastime.
Trump regularly spends his weekends at a golf course, but the White House typically declines to confirm that the Republican president is, in fact, golfing.
Trump was at his golf course for four hours, long enough to play 18 holes. Reporters and photographers traveling with him stayed in a clubhouse and were not permitted to see any part of the match, but pictures from club members appeared on social media.
Friday was the third consecutive day that Trump has visited a golf course during his Thanksgiving holiday, which he is spending at a resort he owns in Florida. But it was the first time he has said he was on the greens.
Source : MSN