Trump focused on Kavanaugh, Kethledge for Supreme Court:
on
July 5, 2018
at
10:13 am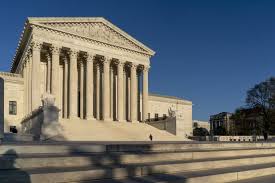 Conservative federal appeals court judges Brett Kavanaugh and Raymond Kethledge are the two most serious contenders being considered by President Donald Trump for the U.S. Supreme Court, a source familiar with the process said on Thursday.
Kavanaugh serves on the U.S. Court of Appeals for the District of Columbia Circuit. Kethledge, of Michigan, serves on the Cincinnati-based 6th U.S. Circuit Court of Appeals. Both are in their early 50s and potentially could serve decades in the lifetime post on the nine-member court.
The source told Reuters that Amy Coney Barrett of Indiana, a judge on the Chicago-based 7th U.S. Circuit Court of Appeals, was still in contention but that the Republican president had been asking more questions about the other two, who have more extensive judicial records.
Trump, who conducted interviews with seven candidates earlier this week for a spot on the top U.S. judicial body, is expected to announce his decision on Monday. The source said he would not be surprised if Trump firmed up his choice before leaving for a trip to Montana later on Thursday.
Source: FOX NEWS