The U.S Forest Service…
on
January 26, 2018
at
3:37 pm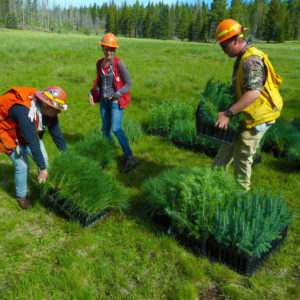 The U.S Forest Service is seeking public comment on a plan to replant nearly 29,000 acres of forest lost to the 2011 Wallow Fire.
The purpose of the replanting project is to help areas of the forest that experienced high-burn severity recover. This project that has been under way for a number of years. According to James Johnson, silviculturist for Alpine and Springerville ranger districts of Apache-Sitgrreaves National Forests, the goal of the current effort is to clear a large area for replanting by getting it through the NEPA process.
NEPA — the National Environmental Policy Act — requires systematic review of proposed activities on federals lands to evaluate whether they will have a negative impact on the environment. Even activities such as tree planting must go through NEPA review. Johnson said that getting a large area cleared through the NEPA process allows the Forest Service to move forward with the replanting project more efficiently because they don't have to put smaller replanting projects of less than 5,000 acres through the NEPA process in a piecemeal fashion. The project will likely qualify for a categorical exclusion — a simplified NEPA process.
Source : Press Release