Suspected Arsonist Killed In Gunfight
on
July 17, 2017
at
10:55 am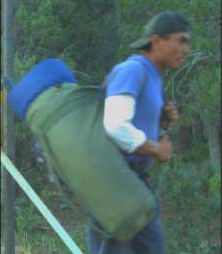 A man wanted for allegedly starting a series of small fires earlier this month near Forest Lakes, and subsequently shooting at U.S. Forest Service firefighters the next day, has been killed, the FBI has confirmed.
According to the FBI's Phoenix office, the man was killed early July 15 after he allegedly assaulted a federal officer just north of Globe on the San Carlos Reservation.
Investigators have identified the individual, but are awaiting notification of next of kin.
The incident occurred at about 2 a.m. July 15 when law enforcement officers with the U.S. Forest Service and the San Carlos Apache Tribal Police – part of a multi-agency law enforcement effort searching for the man they believe earlier this month set several smalls fires near Forest Lakes and shot at firefighters working in the area – tracked him down in the area of Timber Camp, about 20 miles northeast of Globe on the San Carlos Reservation.
The FBI said the man shot at officers, who returned fire and killed the suspect. No officers were injured in the gunfight.
FBI officials said the man who was killed is believed to be the same person who started eight small fires and shot at Forest Service firefighters July 3-4 near Forest Lakes.
The FBI has jurisdiction for any assault on federal officers. Officials said the investigation is continuing and is being worked on in conjunction with numerous law enforcement agencies, including the Gila County Sheriff's Office, San Carlos Apache Tribal Police Department, the U.S. Forest Service, Coconino County Sheriff's Office and the Arizona Department of Public Safety, who were part of the joint investigation stemming from the July 4 shooting incident.
The Navajo County Sheriff's Office and the White Mountain Apache Tribal Police were also involved in the search and investigation.
Source : Press  Release