Show Low Public Safety Building on track, under budget
on
June 16, 2017
at
3:53 pm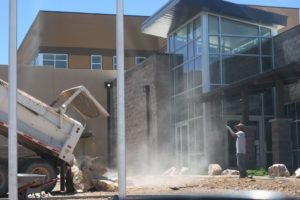 The Show Low Public Safety Building, also known locally as the "new" police department facility, is still on track and under budget.
The site of the new facility is 411 E. Deuce of Clubs, formerly Tate's Auto Building. It is is on the south side of the Deuce of Clubs between 4th and 5th streets. It will also house the Navajo County Sheriff's Office.
Although there were some minor setbacks and budget adjustments, the project remains under budget and in the final phases of completion.
Public Works Director Bill Kopp formally addressed the Show Low City Council during the May 16 council meeting. Although almost a month has passed since Kopp's update, little has changed and the building appears to be living up to its proposed "state-of-the-art" description.
The minor "setbacks" that Kopp brought to the council were presented as a "revision in the scope of the project."
Source : WMI