Sessions says all illegal border crossers will be prosecuted…
on
May 7, 2018
at
3:24 pm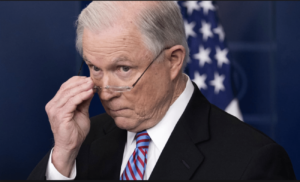 Attorney General Jeff Sessions announced Monday that the Department of Homeland Security will refer anyone caught entering the U.S. illegally from Mexico to the Justice Department for prosecution.
"If you cross the border unlawfully, then we will prosecute you. It's that simple," Sessions said. "If you smuggle illegal aliens across our border, then we will prosecute you. If you are smuggling a child, then we will prosecute you and that child may be separated from you as required by law."
Sessions' so-called "zero tolerance policy" raises the possibility that immigration authorities could separate parents from their children whenever a family is apprehended attempting to cross the border. The Wall Street Journal, citing the Department of Health and Human Services, reported earlier Monday that 700 children had been separated from their families since October of last year.
Source : Fox News