Resident proposes new county
on
August 11, 2017
at
2:59 pm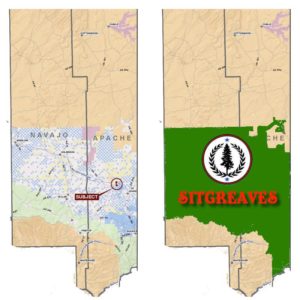 A group of White Mountain residents are looking to create their own county.
"The idea for a new county first came to me when I noticed a disparity in the amount of property tax paid by Navajo and Apache counties, relative to the average income of resident living there," said Jesse Valencia, founder of the proposed Sitgreaves County Project.
Valencia said one of the biggest issues with the current arrangement is that three out of the five Navajo County district supervisors — Lee Jack Sr. (District I), Jesse Thompson (District II) and Dawnafe Whitesinger (District V) — are representatives of nearby reservations that don't pay property taxes like other parts of the county. Therefore, Valencia said, they are voting on tax increases and financial matters that don't affect them or in which they don't have a stake.
The proposed Sitgreaves County would remove the districts representing reservations in Navajo and Apache counties and combine the districts in both that represent taxpayers.
Pinetop-Lakeside, Eager, Holbrook, Snowflake/Taylor and Show Low would all be incorporated, while towns such as Whiteriver, Cottonwood and Chinle would possibly be excluded.
"With this new county, we could lower the property tax rate to be more competitive with Yavapai and Coconino counties, and also reflect the average yearly income here," Valencia said. "Since a new board of supervisors would be representing the actual taxpayers that live here, the things they vote on would be better reflective of what taxpayers want for the region."
When looking at the Arizona Legislature, though, a long list of requirements stands in the way of the project.
Some of the rules include "ensuring at least three-fourths of 1 percent of the total state population, at least 100 square miles of privately owned land, and common boundaries with at least three other existing or proposed counties."
Source : Press Release