Republican House members seek Nobel Peace Prize for Trump
on
May 2, 2018
at
3:11 pm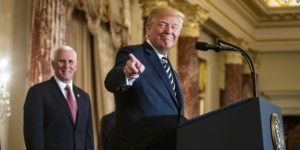 A group of House Republicans is seeking the Nobel Peace Prize for President Donald Trump because of his work to ease nuclear tensions with North Korea.
Trump and North Korean leader Kim Jong Un are working out the details of a historic summit that could take place by the end of May or early June. Yet an agreement by which the North would give up its nuclear weapons and allow for the world to confirm it still seems far off.
The United States has reached aid-for-disarmament deals with North Korea before, but they've ultimately failed.
Source : Fox News