Rep. Steve Scalise is back to work…
on
September 28, 2017
at
9:38 am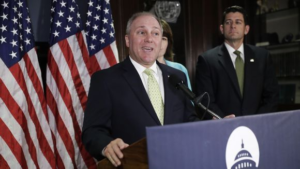 Scalise, the House majority whip, has been out ever since he was shot in the hip by James Hodgkinson. Hodgkinson targeted Republican lawmakers who were practicing for the annual congressional baseball game. In addition to Scalise, three others were wounded in the shooting. All have recovered.
During Scalise's recovery, his status ranged from critical to fair.
Scalise's arrival on the House floor was marked by applause from his colleagues. The chamber was packed with members from both sides of the aisle, and as Scalise made his way to his seat with the assistance of forearm crutches, he was hugged by lawmakers.
"You have no idea how great this feels to be back here at work in the people's House," Scalise said as he began his remarks.
Source : USA Today