Red flag law proposals raise stakes in gun reform debate
on
September 13, 2019
at
5:12 pm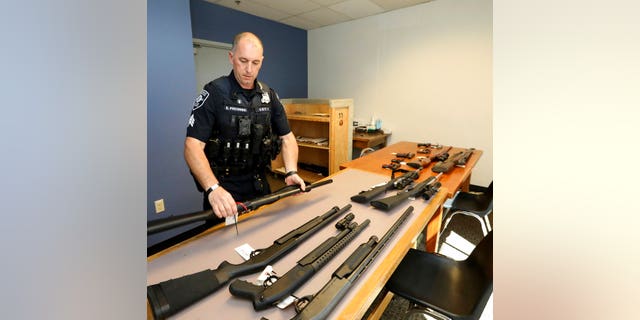 The latest debate on gun control has raised red flags on both sides of the political aisle.
Late Tuesday evening, the House Judiciary Committee passed three bills aimed at quelling the epidemic of gun violence in the United States. Among the bills was a national version of a mandate of extreme risk protection orders (ERPOs), which already is being used in 13 states.
Also known as "red flag" laws, ERPOs allow local authorities or family members to take away weapons, through a court order, from any individual who is a potential threat toward themselves or others. While the law was passed by Congress, it will likely stall on the Senate floor.
The proposals have ignited a debate about whether red flags laws are effective.
"ERPOs are an incredibly valuable tool for keeping guns out of the hands of people intent on causing harm," said Kristen Ellingboe, who is with the Alliance for Gun Responsibility, which supports red flag laws, to Fox News. "They are effective in preventing mass shootings and suicide, in particular."
Others warn that a lack of data does little to help prove that red flag laws have been effective in the 13 states that have passed them.
"It's hard to judge which way the numbers really are going," said one official within the National Rifle Association (NRA). "If the trend already shows a decline in these states before the laws were put in place, is it actually because of red flag laws or is it because the trends were already there?"
The White House is even considering a proposal recently presented by a longtime friend of President Trump — former NBC chairman Bob Wright — who suggested that a new research arm called the Health Advanced Research Projects Agency (HARPA) be developed to tackle health issues and problems in the same way that the Defense Advanced Research Projects Agency (DARPA) does for the military issues.
Included in Wright's proposal was a program dubbed SAFEHOME, an acronym for Stopping Aberrant Fatal Events by Helping Overcome Mental Extremes, which would look into technology–including smartphones, watches and health trackers–to help detect when mentally ill people are about to turn violent.
While the technology has not been developed as of yet, the mere mention of the possibility of using people's devices to monitor their potential for violence has left many troubled by the prospects.
You can read more at the Source here: https://www.foxnews.com/politics/red-flag-law-proposals-raises-stakes-in-gun-reform-debate