President Trump attacks ex-lawyer
on
August 22, 2018
at
1:53 pm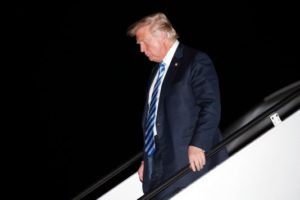 A day after being accused of illegal conduct, a defiant President Donald Trump denied wrongdoing Wednesday and mocked his former personal attorney who implicated him in a hush money scheme designed to silence alleged ex-mistresses.
While he has praised Michael Cohen profusely in the past, Trump now says the lawyer who worked for him from 2007 until this year – a reputed "fixer" involved in many of the president's business dealings – is now making up stories to protect himself.
"If anyone is looking for a good lawyer, I would strongly suggest that you don't retain the services of Michael Cohen!" Trump said during a morning tweet storm.
Meanwhile, the attorney for Cohen said the president's former lawyer is ready to provide testimony linking Trump to another case: Russian efforts to influence the 2016 election via hacked Democratic emails.
Source : Fox News