Police: Cardinals game will be 'safe and secure'
on
December 10, 2015
at
3:26 pm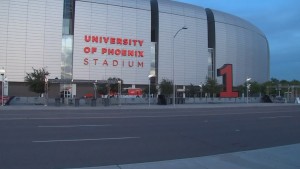 Thursday night, the Arizona Cardinals will be battling the Minnesota Vikings as they aim for the NFC title. It is the fourth time this season the Cards are playing a prime-time game. For those with tickets, get to the stadium early. People not going to the game may just want to stay away from the stadium area altogether. The game will be during rush hour, so maybe try to sneak out of work a little early or, at the very least, stay away from the Loop 101 and Interstate 10.
The Cardinals games have been a very busy event for us all season long," said Sgt. David Vidaure with the Glendale Police Department.
Presenting an added challenge Thursday night is a heightened awareness for terrorism at large, public venues.
"One of the things that came to light during our last game was that people noticed we had our SWAT officers at the entry gates," Vidaure said.
Vidaure said they'll make an encore appearance during Thursday's game.
"With a few increases in staffing to include both uniformed personnel as well as some plainclothes officers that people won't see," Vidaure said.
It's probably a good idea, Vidaure said, if fans bring as little as possible with them.
In addition, Vidaure said common sense thinking will go a long way.
As always, police ask that if you see something, say something. Getting in contact with an officer will be easy. Fourteen different Valley police departments team up to form a coalition that will support Glendale police in keeping the game safe and secure