on
July 20, 2016
at
11:29 am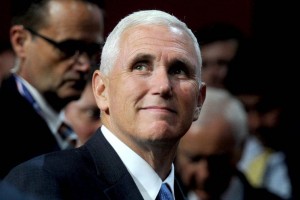 Mike Pence is about to give the most important speech of his political life. And it should go just fine, if Donald Trump doesn't materialize from the mist again, like a character from "This Is Spinal Tap," so he can muscle in on the microphone and cut Pence off at every third word.
Trump and Pence sounded like a newly married couple trying to persuade immigration agents that they really had fallen madly in love, despite the fact that they met the week before and one of them needed a green card.
Pence kept referring to Trump as "this man" and "this good man," as if he wasn't quite sure whether the two of them had yet reached a first-name basis and it was safer just to be oblique. A sour-faced Trump interrupted Pence constantly and actually granted him permission to speak for himself — out loud, more than once.
source: yahoo