on
February 12, 2016
at
1:09 pm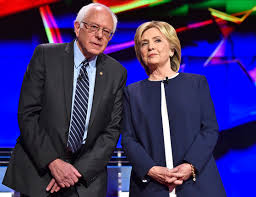 Hillary Clinton was questioned about the wealthy financiers who have donated to her presidential campaign during the Democratic primary debate at the University of Wisconsin-Milwaukee on Thursday evening. The query led to a lengthy exchange between Clinton and her rival, Sen. Bernie Sanders, D-Vt., who has made campaign finance reform a cornerstone of his campaign.
Moderator Judy Woodruff noted that Clinton has claimed "There's no quid pro quo" involved in these donations. Woodruff, one of the co-anchors of "PBS NewsHour," asked Clinton whether this also holds true of contributions Republicans receive from megadonors, including the billionaire Koch brothers.
"I can't speak for the Koch brothers," Clinton responded.
Clinton went on to address the question of her own campaign contributions. In her question, Woodruff specifically referred to the financiers Donald Sussman and George Soros, who have given over $9 million this election cycle to the super-PAC Priorities USA Action.
Clinton described Priorities USA Action as "a super-PAC we don't coordinate with, that was set up to support President Obama that has now decided they want to support me."  She also emphasized the fact that approximately 750,000 smaller donors have backed her campaign.
Priorities USA Action was indeed established to support President Barack Obama in the 2012 election. It began working on Clinton's behalf in 2014. Since then, Clinton's husband, former President Bill Clinton, has appeared at Priorities USA Action fundraising events. The PAC has also set up a joint fundraising committee with another super-PAC, Correct The Record, which does directly coordinate with Clinton's campaign.
After Clinton spoke, Sanders was asked to weigh in on the issue of megadonors. Sanders, who regularly describes the campaign finance system as "corrupt," pointed out that he is not backed by a super-PAC.