on
October 18, 2017
at
1:22 pm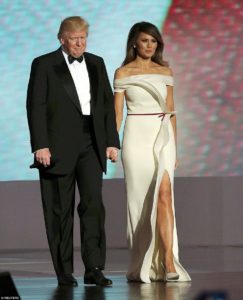 This week, first lady Melania Trump will participate in a time-honored Washington tradition dating back more than 100 years — gifting her inaugural ballgown to the Smithsonian's National Museum of American History.
"Mrs. Trump had a passion for design starting at very young age, and had a very precise idea of what she wanted to wear for the historic evening," Trump's communications director Stephanie Grisham told CNN. "She is honored to be able to donate her couture piece to such an iconic exhibit at the Smithsonian."
Trump will take part in the gown presentation ceremony.
Lisa Kathleen Graddy, curator of the Smithsonian's First Ladies Collection exhibition said the tradition began with Helen Taft in 1912.
"Since then, it's become the custom for the Smithsonian to make the donation request, and for the first lady to give her gown for the public to view," Graddy said.
Source : MSN