on
July 14, 2016
at
2:09 pm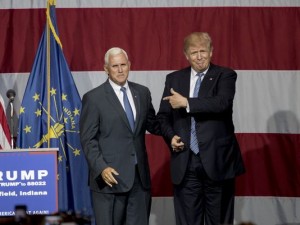 Aides to Donald Trump said Thursday afternoon he has not yet settled on a running mate, while other Republicans said that signs point to Indiana Gov.Mike Pence.
Donald Trump Jr. told NBC News that his father will likely decide soon among Pence, Newt Gingrich, and Chris Christie.
"It's down to three," the younger Trump told MSNBC.
The Indianapolis Star reported Thursday that Trump is planning to pick Pence and that the Indiana governor is prepared to forgo his re-election bid in the state. Other news outlets  also reported Pence as the likely pick, though Trump's campaign cautioned throughout that the deal is not yet done.
source: usatoday