on
September 15, 2017
at
3:32 pm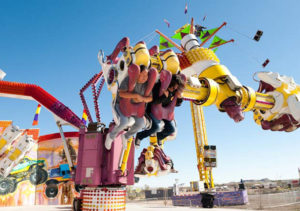 The 86th annual Navajo County Fair is under way in Holbrook this week.
It started Wednesday and runs through Sunday.
The Midway is always a big attraction at county fairs, and this year's version of the fair is no different. Another huge attraction are the livestock and agriculture entries-exhibitions by children with organizations like Future Farmers of America and 4-H.
The theme of this year's fair is "A Barn Good Time."
This year's entertainment includes the rodeo, demolition derby, Junior Miss Pageant, Little Buckaroo Rodeo, Rank L'il Buckers and Extreme Bronc Riding, open class exhibits and demonstrations, Junior Livestock Show and Auction, 4-H Horse Show, Small Stock Show and exhibits, Farmer Phil, and Poppin' Penelope (stilt walker, balloon artist, and the 'Wild Science' imagination gallery) who is an icon at the fair.
Source : Press Release