on
July 16, 2018
at
11:16 am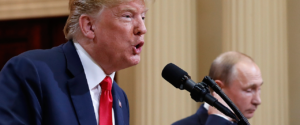 President Trump and Vladimir Putin tackled allegations of election meddling in unprecedented terms following their one-on-one summit Monday, with Trump opening the door to an unusual offer of cooperation in the special counsel probe and the Russian president suggesting he indeed favored the billionaire businessman in 2016.
But Putin, emphatically and repeatedly, denied meddling in the U.S. election, saying there's "no evidence." And Trump, while saying they spent a "great deal of time" discussing the allegations, blasted the ongoing probe as a "disaster for our country."
The two leaders spoke at a freewheeling joint press conference following a pair of meetings — one private — in Helsinki, Finland. Trump and Putin both touted the summit as a success, vowing to improve ties on a range of issues.
"I would rather take a political risk in pursuit of peace than to risk peace in pursuit of politics," Trump declared.
Source : Fox News