on
November 10, 2017
at
9:37 am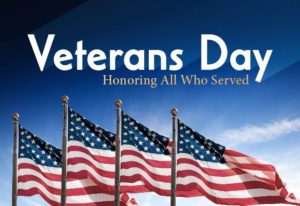 A Veterans Day recognition event will be 8:30 a.m. Saturday, Nov. 11, in front of the Mountain Hardware Store on Main Street. The event will be hosted with coffee and baked goods (donations of baked goods appreciated). The Veterans Wall depicts Alpine community members and family who have served in the military, past and present. The wall will be up and ready for viewing from Nov. 7-13.
EAGAR: A Veterans Day salute will be shown in a video at the Round Valley football game at the Round Valley Dome, 555 N. Butler St., during halftime. The football game starts at 6 p.m. Friday, Nov. 10.
EAGAR — The public is invited to attend the VFW Post 8987 Veterans Day Mexican dinner sponsored by the Springerville Head Start from noon-2 p.m. Saturday, Nov. 11, at 593 N. Main St. in Eagar. Bring a dish if you would like. A parade will be 10 a.m., followed by a flag-burning ceremony.
LAKESIDE — VFW 2364 Veterans Day ceremony at 11 a.m. Saturday, Nov. 11, at the Veterans' Memorial, 1360 N. Neils Hansen.
OVERGAARD — The American Legion, 2068 Lumber Valley Road, hosting a Veterans Day ceremony at 11 a.m., followed by a potluck. The American Legion Auxiliary will provide the meat; bring a dish if you like. For more information, call 928-535-5266.
PINETOP — Hon-Dah Resort & Casino offers a free lunch buffet from 11 a.m. to 3 p.m. Saturday, Nov. 11, for veterans and one guest in the Indian Pine Restaurant, 777 Highway 260, three miles south of Pinetop, to all America's veterans and members of the U.S. Armed Forces to say thank you for your service to America. Please show military ID or DD214. Lunch features carved pit ham with honey bourbon glaze, steamed vegetables, mashed potatoes with gravy, barbecue baked chicken, meat loaf, and beef tips with noodles.
PINETOP —The Submarine Vets invites veterans and one guest to join them free for lunch from 1-4 p.m. Sunday, Nov. 12, at El Rancho Restaurant at 1523 E. White Mountain Blvd. Additional adult guests can eat for $7 and $5 for children. The Blue Tattoo Trio will be performing a free concert from 1-3 p.m.
PINETOP: Pinetop Brewery, 159 W. White Mountain Blvd., will donate a percentage of their sales today to Walking Down Ranch in honor of Veterans Day. Business hours are 11 a.m. to 9 p.m.
SAN CARLOS APACHE TRIBE RESERVATION: The San Carlos Apache Tribe will be having their annual Veterans Day Parade and Rodeo on Nov. 9-12 on the San Carlos Apache Reservation. Parade starts at 10 a.m. The theme for this year's parade is "Legends of Warriors: Remembering and Honoring All Purple Heart Veterans."
SHOW LOW — The Show Low Elks Lodge 2090, VFW Post 9907, American Legion Post 76 and the Show Low Sub Vets are sponsoring a free dinner Saturday, Nov. 11, for all veterans and their spouses. A welcome social hour begins at 5 p.m. and the dinner will be served at 6 p.m. The Elks Lodge is located at 805 E. Whipple St. For more information, call 928-537-4901 or 928-537-7511.
SHOW LOW — In honor of Veterans Day, any veteran of the armed forces is invited to swim for free Saturday, Nov. 11, at the Show Low Family Aquatic Center, with lap swim from 9 a.m. to noon and open swim from noon to 5 p.m. Either a military I.D. or proof of service will be accepted. Standard fees for lap and open swim are $1.50 per child (up to 17 years), $3 per adult (18 to 54 years) and $2 per senior (55 and older). Call 928-532-4130 for more information.
SHOW LOW — Summit Healthcare invites all veterans and a guest for a free lunch or dinner in Summit's dining room Friday, Nov. 10. Lunch will be served from 11:30 a.m. to 1:30 p.m. and dinner from 4:30-6:30 p.m. Summit Healthcare is located at 2200 E. Show Low Lake Road. For more information, call 928-537-4375.
SHOW LOW — The Veterans of Foreign Wars Post 9907 honors veterans at an 11 a.m. ceremony Saturday, Nov. 11, at the Veterans Memorial next to City Hall on Ninth Street in downtown Show Low. All residents, veterans, and visitors, are invited to attend and honor veterans of military service.
SHOW LOW — The Pizza Factory is offering a free mini-one topping pizza and regular-size soda to all veterans (with valid ID) to honor the commitment and sacrifices they have made for our country.
SNOWFLAKE — Silver Creek Rotary hosting a dinner and dance to honor veterans will be 6-9 p.m. Saturday, Nov., 11, at Snowflake Senior Center, 1658 S. Main St. Tickets are $25 for couples, $15 for singles and veterans are $10. Tables of eight are $90. Tickets are available at The Ranch House, the police department, Pro-Motion Imaging, and Taylor Fire Station. For more information, call or text Kelly at 928-243-8810 or Kara at 928-600-9574.