on
January 20, 2016
at
11:36 am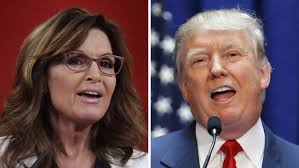 Donald Trump says Sarah Palin could play a role within his administration if he's elected president — but doubts she'd want to be his running mate.
"I don't think it's something that she would want to do," Trump said on NBC's "Today" show on Wednesday, a day after the former Alaska governor and 2008 Republican vice presidential nominee endorsed the GOP frontrunner in Iowa. "She's been through that."
"I haven't discussed anything with her about what she'd do," Trump said, "but she's somebody I really like and I respect, and certainly she could play a position if she wanted to."
The real estate mogul and former "Celebrity Apprentice" host said Palin approached him about her endorsement — which irked Trump's rivals, particularly Texas Sen. Ted Cruz, whom Palin endorsed when he was running for Senate in 2012.
"Every candidate wanted Sarah. Everybody. They all respect her a lot," Trump said Wednesday. "She never said, 'Gee, I'd like to do this, I'd like to do that.' She never made a deal, like so many people want to try to make deals. She just said, 'I really like what's going on. It's an amazing thing. I've never seen anything like it in politics.'"