on
February 25, 2016
at
3:26 pm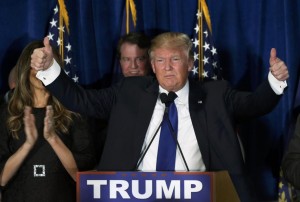 On Tuesday, Trump clocked another impressive early state win, this time in the Nevada caucuses, where he ran away with about 46% support. It was his third decisive victory in a row, following first-place finishes in New Hampshire and South Carolina.
Trump has skillfully made himself the leader of an angry swath of the primary electorate enraged at Washington and its own party. Sure, he doesn't represent every GOP voter, but it doesn't matter — the rest of the field has been so fractured that Trump's cadre of impassioned, disillusioned supporters is enough to make him the standard bearer of the Republican Party.
The establishment is now staring that reality in the face, one that was unthinkable just months ago. How — if — they reckon with Trump will be one of the defining political events of this generation.