on
March 9, 2016
at
1:09 pm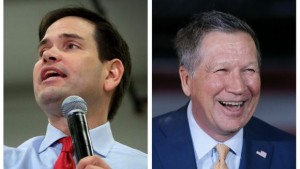 Donald Trump trounced Marco Rubio in a new Florida poll, with Trump receiving twice the support of Rubio in the senator's own state.
In the new Quinnipiac poll, 45% of likely Republican primary voters sided with Trump while 22% of Rubio's own constituents who were surveyed supported him.
Analysts have called Florida's winner-take-all primary on March 15 a "last stand" for Rubio's flagging campaign, which has faced attack ads in the state by both Trump and a super PAC backing Ted Cruz.
Seemingly undaunted, Rubio has promised he'll win his home state, along with its 99 delegates.
Elsewhere in the Florida poll, Ted Cruz came in at 18% with John Kasich at 8%.
Kasich has banked the future of his presidential bid on winning Ohio's 66 delegates. The state holds its winner-take-all primary also on March 15 with Florida and three other key states.
Cruz nabbed 16% of voters in Quinnipiac's Ohio poll, with Rubio taking 9%
"The effort within the Republican Party to stop Donald Trump from winning the presidential nomination appears unlikely to stop him from taking Florida's delegate-rich winner-take-all primary," said Peter A. Brown, assistant director of the Quinnipiac University Poll.
"But that effort might have a better chance of success in Ohio where Gov. John Kasich is giving 'The Donald' a tougher run for his money."
The Quinnipiac polls, taken March 2 through March 7, has a margin of error of +/- 3.8 for the Florida poll and +/- 3.7 for the one in Ohio.
The CNN poll, taken March 2 through March 6, has a margin of error of +/- 5 percentage points.