on
March 31, 2016
at
3:14 pm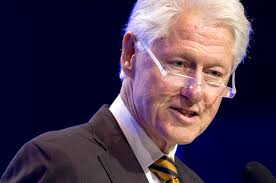 Some critics argue that Sen. Bernie Sanders, I-Vt., should bow out of the Democratic presidential primary as his chance of defeating Hillary Clinton becomes increasingly slim. However, Clinton's husband, former President Bill Clinton, does not think Sanders needs to give up.
Yahoo News asked Clinton if he wants Sanders to leave the race at a campaign event in New York City on Thursday afternoon. He noted that Sanders has generated substantial support.
"We have an election that goes all the way through June, and she believes and I believe that everybody has a right to their own timetable," Bill Clinton said. "He's got a lot of supporters. He's got a perfect right to stay in if that's what he wants to do and run his race. It's his decision."
Despite a string of recent victories, Sanders is still behind Clinton in the pledged delegate count. Sanders would need to win a majority of the vote in every remaining primary in order to get ahead of her.