on
April 12, 2016
at
2:12 pm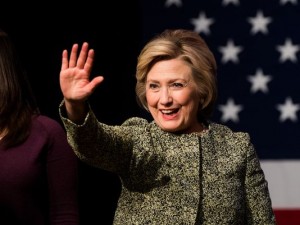 Hillary Clinton is keeping a lid on Bernie Sanders' appeal in New York — by touting her Senate record upstate and pounding him on the gun issue in the Big Apple.
It's a two-pronged strategy to appeal to liberal and black voters around Manhattan on the one issue where she's to the left of the Vermont senator — firearms — while emphasizing to upstate voters her efforts on jobs as a U.S. senator.
New York is a critical battleground for both candidates, and recent polls show Clinton with a double-digit lead. Though Clinton maintains a large pledged delegate lead over Sanders, a narrower victory in the state she represented in the Senate for eight years would raise questions about her strength as a general election candidate.
Sanders may have his best chance of challenging Clinton upstate, where he's pushing an offensive on fracking and trade deals that have hurt manufacturing jobs, an issue that helped him pull off a surprise victory over Clinton last month in Michigan. On Tuesday, the Vermont senator opened a Rochester rally blasting Clinton for promoting fracking in other countries while secretary of State.
Sanders has also fared best in states where the population is less diverse, so the demographics upstate, which is whiter than New York City and surrounding areas, could favor him as well.
But Clinton campaign aides believe her efforts as a New York senator for eight years, promoting economic development in communities like Buffalo, will offset Sanders' potential advantage.