North Korea faces "Fire and Fury"
on
August 8, 2017
at
3:44 pm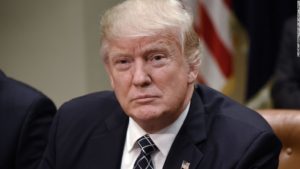 President Trump lashed out at North Korea on Tuesday in response to reports of a new milestone in its nuclear quest, vowing the rogue regime risks "fire and fury like the world has never seen."
And North Korea's military responded with its own aggressive stance, saying that it is considering a missile launch aimed near the U.S. strategic military installations in Guam, according to South Korea's Yonhap News Agency.
Trump's harsh comments to reporters came hours after The Washington Post, citing a confidential Defense Intelligence Agency report, said North Korea has produced a miniaturized nuclear warhead that can fit inside its missiles.
"North Korea best not make any more threats to the United States," Trump said from the clubhouse at his golf course in Bedminster, N.J.
North Korean leader Kim Jong Un "has been very threatening beyond a normal state, and as I said they will be met with fire and fury and frankly power, the likes of which this world has never seen before," he said.
Source : AP News