New York Bomber Was Inspired by ISIS Christmas Attacks
on
December 11, 2017
at
3:25 pm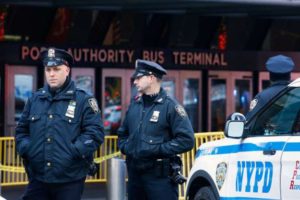 A would-be suicide bomber set off a pipe bomb strapped to his body during the morning rush hour on Monday, deep inside one of Manhattan's busiest commuter corridors, the police said.
He chose the location because of its Christmas-themed posters, recalling strikes in Europe against Christmas markets, he told investigators, and set off bomb in retaliation for U.S. airstrikes on ISIS targets in Syria and elsewhere, several law enforcement officials said.
The blast echoed through the subway tunnels just off Times Square, and filled parts of the Port Authority Bus Terminal with smoke as commuters fled into the streets to escape what the authorities quickly concluded was an act of terror.
Source : MSN