Moving Day Finally Arrives !!
on
August 6, 2018
at
3:43 pm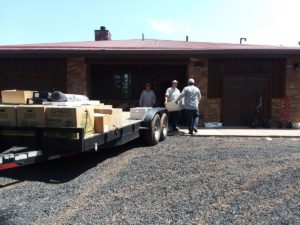 After 30 years in the old building on Neils Hansen Lane, which was supposed to be temporary, and two years crowding in with the Public Works department on Woodland Road, the town government has a new home.
The new home was formerly the office of Dental Designs, and is right on the main street of town — White Mountain Boulevard.
The beautiful, spacious building has plenty of room for offices, storage, and parking, lovely landscaping, and room to expand if necessary.
"There were too many environmental issues in the Neils Hansen building," said Public Works Director Matt Patterson. "We found black mold and asbestos in there, and there was no option but moving."
Source : Press Release