Making Them Pay …
on
July 11, 2018
at
2:06 pm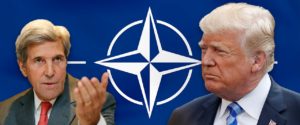 NATO leaders pledged their "unwavering commitment" to boost defense spending on Wednesday, following stern words from President Trump criticizing European leaders for spending too little.
The U.S. and European allies signed a declaration stating they are "committed to improving the balance of sharing the costs and responsibilities of alliance membership."
The declaration comes after confrontational and testy discussions between Trump and other NATO leaders.
Since the election, Trump has criticized NATO countries for not paying their fair share, while suggesting he would only come to the defense of NATO nations that fulfilled their financial obligation.
Trump also has pressed NATO countries to fulfill their goal of spending 2 percent of their gross domestic products on defense by 2024. NATO estimates that 15 members, or just over half, will meet that benchmark based on current trends.
Source : Fox News