Local law enforcement are on the fire beat…
on
May 15, 2018
at
10:42 am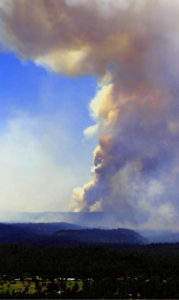 Months into a deepening drought, parched and windblown northeast Arizona — including all of Navajo and Apache counties and the Apache-Sitgreaves National Forests — remain under Stage 2 fire restrictions.
Local residents and some fire department officials have said recently that conditions are as dry as they can ever remember in the area.
But that hasn't stopped people from burning. In their yards and in the forest, people are still starting fires.
Local law enforcement is responsible for enforcing the fire restrictions. And they are trying to turn up the heat on people who are starting illegal fires.
"Stage 2 restrictions do not allow for campfires or charcoal fires of any kind. And that includes in residential areas," Timber Mesa Fire and Medical District Community Fire Risk Manager Kirk Webb said.
Stage 2 fire restrictions are not only for visitors to the national forest. The restrictions apply to all residents, and homeowners can be cited for illegal burning on their own property. Currently, even smoking a cigarette outdoors is illegal. For those reasons and more there is a local zero-tolerance policy among those who enforce fire restrictions.