In Trump impeachment trial, Senate Republicans could turn tables on Dems
on
November 22, 2019
at
6:35 pm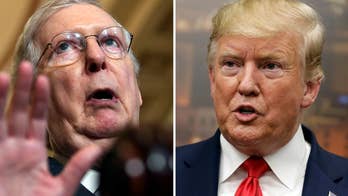 House Democrats are entering what may be the final phase of their impeachment inquiry, after wrapping up a spree of hearings where witnesses tied top officials — including President Trump — to efforts to pressure Ukraine on political investigations while military aid was being withheld.
But the tables could turn, should the House approve impeachment articles and trigger a trial in the Republican-controlled Senate. There, Trump's allies are already indicating they will look more closely at allegations involving Democrats.
"Frankly, I want a trial," Trump declared Friday on "Fox & Friends."
There's a reason for that.
Democrats have controlled everything during marathon proceedings in the House, frustrating GOP attempts to call witnesses pertaining to the matters Trump wanted Ukraine to investigate — specifically, the Bidens' business dealings in that country and Kiev's alleged interference in the 2016 election.
But that changes on the Senate side, where Republicans have the majority and Trump allies chair key committees. Already, they've signaled their interest in exploring issues that House Democrats glossed over during their hearings.
You can read more at the source here: https://www.foxnews.com/politics/in-trump-impeachment-trial-senate-republicans-could-turn-tables-on-dems