FBI Searches for Armed Robbery Suspect…
on
July 12, 2017
at
2:20 pm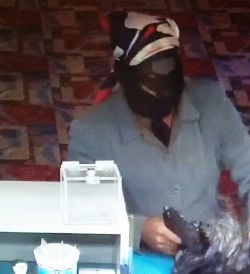 The FBI's Phoenix office, along with the White Mountain Apache Tribal Police, are investigating the robbery that took place at the Hon-Dah Resort Casino and Conference Center south of Pinetop.
According to a statement from the FBI, the casino was robbed at gunpoint at 3:30 a.m. July 11 by a masked individual they believe to be a middle-aged male between 5 feet, 5 inches to 5 feet, 7 inches tall with a slender build. He had a black, white and red facial/head covering. The suspect was wearing a gray-blue suit and white shoes. The suspect was in the casino for less than 90 seconds, FBI officials said. He got away with an undisclosed amount of money and was seen leaving on foot, heading east toward McNary.
Anyone with information is asked to call the FBI Phoenix Field Office at 623-466-1999.
Source : Press Release