FBI official says bureau leaked stories…
on
August 28, 2018
at
11:08 am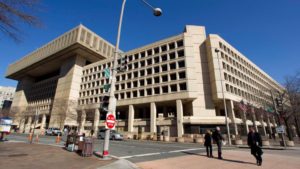 An FBI intelligence analyst admitted to House committees last week that bureau officials were known to leak information to the press and then use the resulting articles to help obtain surveillance warrants, according to a source with knowledge of his testimony.
Jonathan Moffa, who worked with controversial former FBI officials Peter Strzok and Lisa Page, testified last Friday behind closed doors before the House Judiciary Committee and House Oversight Committee.
The source with knowledge of his statements confirmed to Fox News that Moffa said FBI personnel would use media reports based on information they leaked to justify applications for Foreign Intelligence Surveillance Act warrants.
The source told Fox News that Moffa acknowledged this "had been a practice in the past."
Republicans have long questioned to what extent leaked information, related to the unverified anti-Trump dossier, was used as a basis for surveillance warrants against former Trump adviser Carter Page in 2016 — when the bureau was led by James Comey and deputy Andrew McCabe.
Source : Fox News