Congress mulls lowering age requirement for truck drivers…
on
May 30, 2018
at
3:23 pm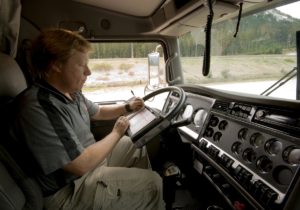 Congress is considering a new piece of legislation proposed by Rep. Duncan Hunter, R-Calif., called the Developing Responsible Individuals for a Vibrant Economy Act, also known as the DRIVE-Safe Act. It aims to allow 18 year olds with their commercial driver's licenses, or CDLs, the ability to drive commercial vehicles across state lines in an attempt to help prevent a nationwide driver shortage.
Most states allow truck drivers under 21 to crisscross a state, but those 18 to 20 are not allowed to cross state lines.
Many truckers are reaching retirement age in the next decade and leaving the workforce, and companies say they are having a tough time hiring new drivers. In South Carolina alone, more than 8,200 locally owned trucking companies said they were suffering from a driver shortage.
Supporters say lowering the age limit would expand the labor pool. While the pay is decent – the average trucker's salary is about $60,000 a year – it's a tough job that requires drivers to be on the road for months at a time.
Source : Fox News