Cohen admits violating campaign finance laws…
on
August 21, 2018
at
3:55 pm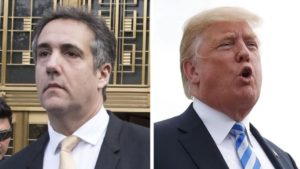 Michael Cohen, President Trump's longtime personal attorney, admitted Tuesday to violating federal campaign finance laws by arranging hush money payments to adult film star Stormy Daniels and former Playboy model Karen McDougal "at the direction" of then-candidate Trump.
In entering the plea, Cohen did not specifically name the two women or even Trump, recounting instead that he worked with an "unnamed candidate." But the amounts and the dates all lined up with the payments made to Daniels and McDougal.
In total, Cohen pleaded guilty to five counts of tax evasion, one count of making false statements to a financial institution, one count of willfully causing an unlawful corporate contribution, and one count of making an excessive campaign contribution.
Source :Fox  News