Be Bear Aware…
on
May 17, 2017
at
12:14 pm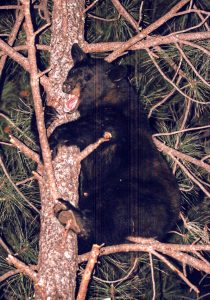 A black bear that reportedly made an uninvited visit to a local home within the past week serves as a reminder that residents should be "bear aware" this time of the year. Arizona Game and Fish officials reportedly darted the bear with a tranquilizer and removed it from the property.
So what should you do if you see a black bear?
Make yourself as large and imposing as possible if the bear
continues to approach. Stand upright and wave your arms, jacket or other items. Make loud noises, such as yelling, whistles, and banging pots and pans.
Do not run and never play dead.
Give the bear a chance to leave the area.
If the bear does not leave, stay calm, continue facing it, and slowly back away.
If a bear is in your yard, scare it away from inside the house, keeping the door closed.
for more info azwildlifetrails.com.