Molesa Retiring…
on
December 7, 2017
at
2:23 pm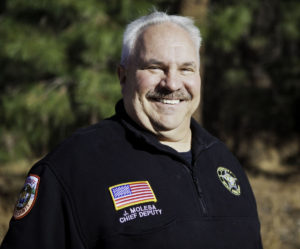 One of the finest in blue at the Navajo County Sheriff's Office is retiring at the end of the month.
Chief Deputy Jim Molesa turning in his badge Dec. 23 after 38 years in law enforcement.
Molesa has been the chief deputy at the NCSO for the last five years. He said he wants to retire while he is still in good health and can still be able to enjoy retirement.
He said he is first going to take some time off to relax at his home in Show Low and reconnect with himself and family.
Molesa, like all members of law enforcement, has been on duty protecting the public while missing out on certain parts of family life and holidays. A law enforcement officer and his/her family also never know if they will come home at the end of their shift.
"I am going to use the first month to reconnect with my wife and four grandchildren," Molesa said.
What comes next is still up in the air.
Source: Press Release